(Google Image)
Well, the New Year is here, and while you'd probably expect me to look forward, I'm going to throw a curveball here and reflect on the past year. Personally, there were a lot of ups and downs with my health, good times and tough times (specifically with the Rangers and Packers… yikes), but most importantly, I made countless memories that will stay with me forever, like going to see Boston College take on Notre Dame in a football game at Fenway Park and falling off a hover board – things that will just stick with me through the rest of my days.
One constant in my life for the past 22 years has been BEF fundraising events. Our fundraisers are the backbone of the charity. They allow us to function and help fight the disease on an active front. Education is paramount at all of the fundraisers as we strive to shine light on cystic fibrosis, a disease that isn't widely known. Hell, that's what I try to do with this blog. I always tell myself that if I am teaching only one person something new with each post, then I am making a difference.
In my 24 years of life I have grown up to live in a world that seldom understands me, and what I go through on a daily basis. Whether I am receiving criticism for coughing up blood and mucus on the ice during a hockey game, or sitting on a subway car with a surgical mask, outsiders often assume the worst and make terrible, terrible judgments. Just go back and look at my story of a plane ride I once took with an angry passenger HERE.
It's hard to blame people who actually have no concept of cystic fibrosis nor understand what is going on inside a patient's body. It would be easy to turn hostile against these people, but normally I see an opportunity to help educate these folks – that's why we have our fundraisers. Securing funds to cure CF and help families live more normal lives are of the utmost importance, BUT raising awareness and creating a general understanding of the disease are far more important in the short term. I mean, look at it this way… I am a realist. Every Christmas I find myself asking Santa to bring a cure for CF, but I know it won't happen overnight, I really do. It takes time and effort from the people hosting fundraisers, to the scientists researching in labs across the world, to the pharmaceuticals developing novel treatment mechanisms, to doctors working with patients, all the way to families coping with and fighting the disease on a daily basis. It's going to be some time until we have a cure, so why not shine a light on what we go through every day?
2015 Booming Celebration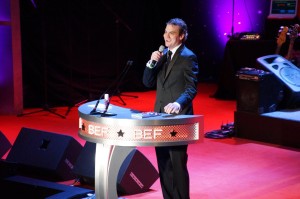 We really just call it "Booming." It has been a staple event ever since the BEF started when I was three (the good old days). It's a black tie dinner that is generally our biggest fundraiser. This year we honored Dr. Jeff Leiden from Vertex for his company's irreplaceable work. A few weeks later, Vertex invited my dad and I to tour the facility, it was pretty cool. You can read about that trip HERE. My friends and family love this event. At the BEF, we pride ourselves on putting on the best possible events while showcasing different CF patient stories. This past year, our Michael Brennan Courage Award winner was 9-year-old Brianna Collichio who accepted the award with grace and a spirit far beyond her years.
20th Annual United Healthcare Empire Challenge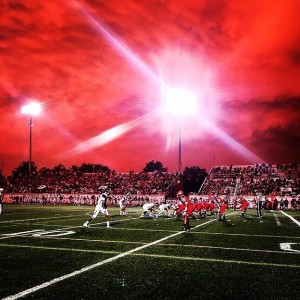 While it's difficult to choose a personal favorite from all of our events, this one is certainly the most unique. Each year we pit Long Island and New York City's finest high school football players against each other in a game that has become quite the rivalry. In 2009, when I was a high school senior, I had an opportunity to play, perhaps one of my top 5 overall memories. This year, Long Island came away with a win after our first ever rain/lightning delay. Mother nature is always out to get you. It made for a pretty cool setting, though, just check out that picture. Yes… I did in fact take it and yes, I only used a few Instagram filters. BTW you can follow me @Esiason17G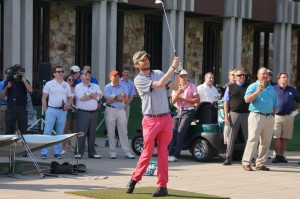 BEF Golf Invitational
I suck at golf, there's really no way around it. Sometimes I actually don't suck, but a lot of the time I do. I think my friends and I collectively came in last place this year, or close to it. That's why this is an annual thing, so we can always say, "well, there's always next year." I also threw a football indoors and dented the ceiling of the dining room that was hosting. It was pretty great.
Kentucky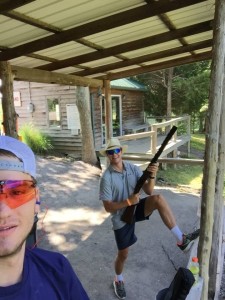 This one might actually have an official name, but if it does I guess I'm not really aware of it. My friends just call it Kentucky.The bottom line, though, is that this event is pretty ******* cool. We go to Kentucky for a couple days and shoot guns. It's definitely far different from any experience I've had in New York. On a more serious note, this event has helped fund the Gunnar H. Esiason Cystic Fibrosis and Lung Center at Cincinnati Children's hospital, and it has more than served its purpose. The people who attend this event love it more and more each year, but most importantly they do take the time to learn a little bit about cystic fibrosis in the process. It's an awesome event and always a success – if you want to know more about it, check out the blog I wrote from two years ago HERE.
Refi Rock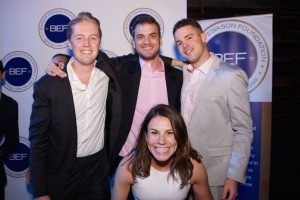 The BEF Young Professionals Committee puts on two huge parties each year. This past year was by far the biggest they have been. The summer event, ironically titled, "Spring Fling" was held at the Central Park Zoo. What's better than an open bar in the presence of some pretty badass sea lions? Probably nothing. On the other hand, the winter event, (not) ironically titled, "Winter Wonderland" was giant this year. It was at Marquee Night Club in NYC. If you know me, you know I love one thing…. The clubs. Just kidding. This is one of the few nights out of the year I break outside the comfort zone and go clubbin' with the hommies for a cause. Gunnar Esiason, in Da Club.
It would be impossible to write about EVERY SINGLE EVENT – I'd be here writing a small book. The fact of the matter is that there are a bunch of Team Boomer events (want to know what Team Boomer is? Checkout my last post HERE. Each Team Boomer event helps get the word out and generates tons of donations to keep us running. Beyond that, people throw events for us from New Hampshire, to Fire Island to the Carolinas – and everywhere (FIGURATIVELY) in between.
The money raised at these events not only helps us drive closer to a cure for cystic fibrosis, but also allows us to grant college scholarships (College students – I want YOU to sign up HERE for the Sacks for CF scholarship – deadline coming soon), aid with transplants and invaluable educational programs. We're not done yet, but we get closer every day. Here's to a great 2016.
———
You can like me on Facebook… have you done that yet? Just search Gunnar Esiason and like that shit.
Looking even FURTHER back on last year, here's my reading list for the entire year. I fell one short of my goal, which was 20 different books. You can also keep up with what I'm reading on the right hand side of the page now!
Band of Brothers – Stephen E. Ambrose
Undaunted Courage – Stephen E. Ambrose
Friday Night Lights – H.G. Bissinger
Legend – Eric Blehm
Black Hawk Down – Mark Bowden
Why Football Matters – Mark Edmunson
Tender is The Night – F. Scott Fitzgerald
The Great Gatsby – F. Scott Fitzgerald
The Energy Bus – Jon Gordon
The Reaper – Nicholas Irving and Gary Brozek
The Thin Red Line – James Jones
War – Sebastian Junger
Profiles in Courage – John F. Kennedy
Killing Jesus – Bill O'Reilly and Martin Dugard
Killing Kennedy – Bill O'Reilly and Martin Dugard
Killing Lincoln – Bill O'Reilly and Martin Dugard
Killing Reagan – Bill O'Reilly and Martin Dugard
All Quiet on the Western Front – Erich Maria Remarque
The Men In Green Faces – Gene Wentz