Welcome to the new website! I felt that there would be no better way to kickoff my redesigned page than by writing about something very close to my heart.
Every month, Team Boomer, one of our athletic programs at the Boomer Esiason Foundation, chooses an Athlete of the Month. For December, my best friend from growing up, Brian Fleishhacker, was chosen. Brian and his family have played an integral role in my CF support system. They have also spent countless hours attending our events and helping raise tons of money. Most notably, Brian raised over $30,000 for BEF when he ran the New York City Marathon in 2013. I am forever grateful.
I know I have said this a bunch of times before, but it has to be said again – sometimes friendships are what keep me going. There are a number of bad days when it comes to dealing with CF, there are also a number of good days, but the bad days really do suck.
The motivation to get through the bad days comes from a number of different places – my favorite is when my friends are there for me. Brian has been (and hopefully will continue to be after he reads this) one of my most loyal, selfless, understanding and compassionate friends. His unrelenting desire to one day see me live without cystic fibrosis is not only inspiring, but also heart warming. He pushes me through life and the bad days like R. Lee Ermey pushes private Joker to be an honorable Marine (the irony here is that Brian won't understand that reference – I am way more clever than he can ever hope to be). Failure is not a word in Brian's vocabulary and I know it gives him great pride when he sees me succeed.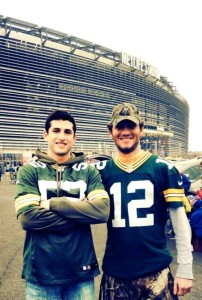 He may not know it, but I am eternally proud of the man he has grown up to be.
We have gone through just about every facet of life together. Our friendship started when he fell out of a tree when he was just a little one. My dad rushed across the street to see if he was all right, he was and (not to sound too punny) our relationship blossomed from there.
When I was young, there were countless days when I would stare out the window waiting for Brian to get home from school. It was just about that time in life when I knew his home phone number before I knew my own – the reason being I would call it every day at 3:25pm (or the moment he walked from the school bus to his door step).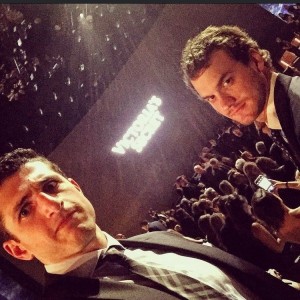 You'll be happy to know that I am now beyond those days. No longer do I sit in my window waiting for Brian to get home for the day, instead Brian and I spend our time at the Victoria's Secret Fashion Show, the Super Bowl, BEF events or when ______________________ the first time Brian visited BC, just to name a few spots. One of his favorite past times is hitting on just about every girl that I've become friends with over the year – so this isn't a one way friendship – I've provided that possibility for him.
Yup – that's Brian. The friend who won't let me say no; the friend who would explain what CF is to a stranger in an uncomfortable situation; the friend who would make someone put a cigarette out; the friend who tried (unsuccessfully) to pry me off a black jack table after I've already lost; the friend who does date my other friends; the friend who cried with me after a certain onside kick in Seattle; the friend who dug my truck out of a ditch; the friend who loves America just as much as me; he's the friend that I have leaned on when times are tough, and one my many friends that I will continue to lean on when times get tough in the future.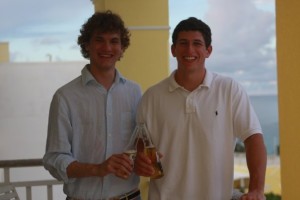 Cystic fibrosis brings with it a life of uncertainty, but one thing is for certain, Brian will always be by my side.