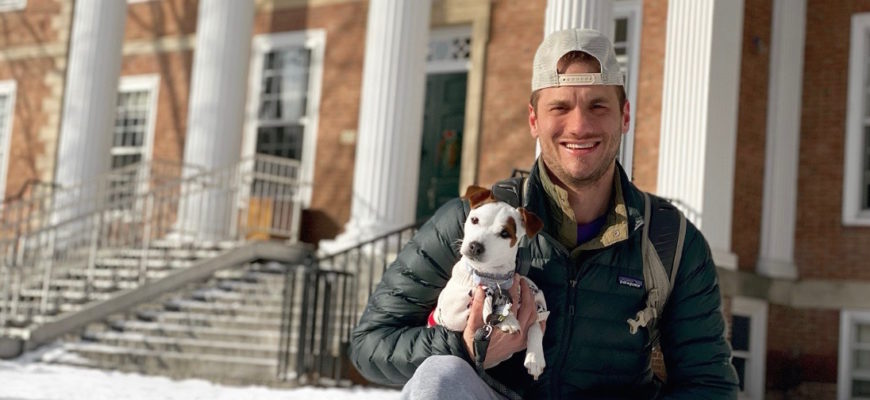 About and Public Speaking
Gunnar Esiason is a cystic fibrosis and rare disease patient leader, who is passionate about early stage drug development, patient empowerment and health policy. He is a second-year MBA student at the Tuck School of Business at Dartmouth. He is also working towards a Master of Public Health degree at the Dartmouth Institute for Health Policy and Clinical Practice. At Tuck, Gunnar serves as a Tuck Center for Health Care MBA Fellow, a health care club co-chair and a club hockey captain. His first year course work included a First-Year Project with a health insurance start-up. Prior to Tuck, Gunnar received a BA form Boston College in 2013, worked on an enteral feeding product at a medical nutrition company, was appointed to the board of directors at the Boomer Esiason Foundation, and was the head coach of his high school alma mater's varsity hockey team. Gunnar maintains the roles of patient advocate and director of patient outreach at the Boomer Esiason Foundation.
He has consulted on clinical trial development, a real world evidence population health study, and a cystic fibrosis-specific mental health and wellness screening tool. In 2019, Gunnar delivered the pre-commencement address at the St. Louis University School of Medicine commencement exercises. He has also been featured as a keynote speaker at more than two-dozen top medical centers, biotech conferences, and health industry events across the United States.
His health policy opinions have been featured in the Wall Street Journal, USA Today, The Hill, and STAT News and among other leading news sources. A list of Gunnar's publications can be found on the publications page.
Follow him on Twitter @G17Esiason.
Send Gunnar an email ([email protected]) if you want to see him write about something specific, or click on the Ask Gunnar tab.
Gunnar is available for select speaking engagements, lectures, motivational talks, and Cystic Fibrosis Family Education Days. Past locations include:
St. Louis University School of Medicine, Pre-Commencement Address 2019
Plenary Keynote, National Society of Genetic Counselors Annual Conference (2020, virtual)
Cincinnati Children's Hospital
Dartmouth-Hitchcock Medical Center
Boston Children's Hospital
Texas Children's Hospital
ProMedica Toledo Hospital
Yale-New Haven Medicine
Johns Hopkins Medicine
Children's Hospital of Wisconsin
Maine Medical
East Tennessee Children's Hospital
University of Vermont Medical Center
University of California San Francisco Benihoff Children's Hospital
University of Wisconsin Health
University of Virginia Health System
Stony Brook University Hospital
Colorado Children's Hospital
Baylor Scott & White Health
Amwell Virtual Client Forum (2020)
TuckTalks, Dartmouth College
Oley Foundation (feeding tube-specific) Annual Conference 2015
Annual Cystic Fibrosis Nutrition and Social Work Consortium (2016)
Cystic Fibrosis Foundation, Real Life with CF Series (2018)
Global Genes 2018 RARE Patient Advocacy Summit
New Jersey Society for Respiratory Care Annual Shore Meeting (2018)
Various healthcare industry sales meetings, conferences
Selected Academic Lectures:
Dartmouth College, Master of Health Care Delivery Science orientation panel
Penn State College of Medicine, Foundations of Patient-Centered Care
All business inquires: