Articulating risk tolerance is hard. It is especially hard during the coronavirus pandemic because we all have competing levels of risk tolerance.
It requires a certain degree of vulnerability and deep personal understanding. Our priorities are different across the board. How do we value personal security vs. the security of a loved one… or a perfect stranger? That internal dilemma is what is eating at the manufactured fight over social distancing. What if your risk tolerance doesn't line up with a neighbor or coworker? The conflict that then persists is what leads us to scrutinize the person we otherwise wouldn't have thought twice about a few months ago.
It's funny, when I flew to Orlando this past February it'll probably go down as the last time in my life when I got funny looks for wearing my N95 on an airplane. Now? The barefaced person out and about in town is on the receiving end of those funny looks.
Risk tolerance is at the heart of those two very different (and maybe even opposite?) scenarios. A few days ago I came across this graphic: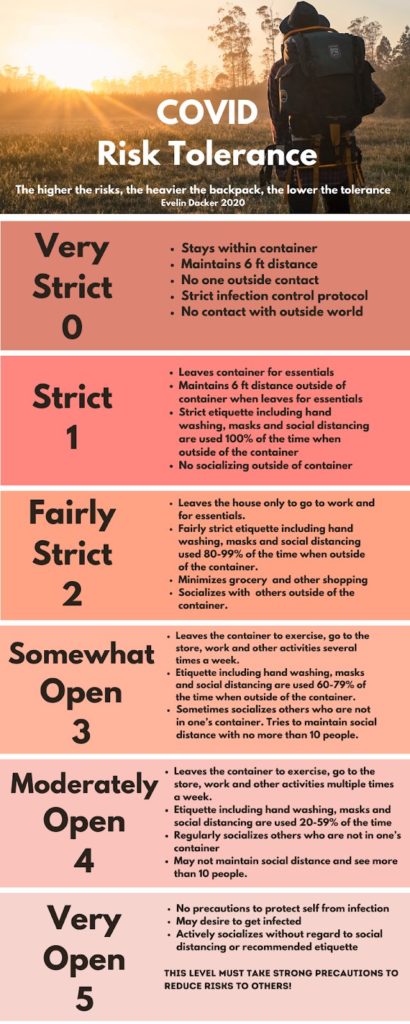 No it's not perfect and it certainly doesn't capture every scenario, but as you read it I'm sure you had reactions like:
"Wow… yeah, I'm a 0. I haven't left my house in 4 weeks."
Or
"Who the hell is living at a 5 right now?!"
The graphic was in a tweet (which you can see below). It was one of those interactive tweets I love coming across because it pushes me to think a little bit.
I would put myself at a 1.5 – 2.
I always wear a respirator or face covering in public. Full stop. The only time I don't wear one outside is when I'm meandering through the forest on a hike (turns out that's become a new hobby). I no longer live in my self-manufactured quarantine, though, and that's why I'm closer to 2 than I am 1.
I was at 0 when this all started spiraling out of control. I found living like that to be emotionally unsustainable. It also perpetuated the fear that a lot of us probably felt when this began.
Last week, Darcy, some friends, and I got takeout for a socially distant picnic over in a quiet little area on Dartmouth's campus. It was exactly what we needed after weeks and weeks of sitting in front of a computer screen. We both craved the physical presence of some friends, so we went out and did it.
I've also started having essential and socially distant face-to-face meetings (behind the security of a mask!) on very rare occasions.
I have also started going back to my local coffee shop to get a daily coffee, and just last weekend I went shopping for Memorial Day Weekend deals at a few mom and pop shops in town. Only after this little song and dance…
Living in a small town with very low population density has hugely influenced my risk tolerance. I generally feel very safe when I step outside my front door. Needless to say, I'd probably see the world differently if I still lived in New York. I also feel a responsibility towards supporting the small businesses in town. Hanover is a great place due in large part to our charming Main Street.
Data have also influenced my behavior. The New Hampshire Department of Health and Human Services provides active case counts in towns and counties, while also showing broader positivity rates across the state. The combination of our testing level and the absence of current cases has me feeling cautiously optimistic. Hanover is case free as of this writing.
Looking back at the graphic – I know I will feel safe at 2 and 3 in due time if we continue to make progress. Trust is an important part of getting back to some normalcy, and I find that lacking right now. Frankly, my past experience tells me that people will go about their lives whether they're sick or not. There's a "me me me" mentality that exists out there, but I am hopeful this is a learning experience that will broadly seep into our population.
I also know that my infection control skill is better than average relative to the general population, and that's all thanks to cystic fibrosis. Mitigating explicit risk is important for me. Undue exposure to something that could have otherwise been preventable is something I have long worked to cut out of my life. I have had to be infection conscious for decades, and because of that I have no problem removing myself from a situation where I feel unsafe. It's paying off in real time.
Maybe that's part of the larger answer. Instead of screaming for a political win across the aisle, we tell people how to be safe in public and demonstrate the net benefit associated with safe behavior. In the absence of a vaccine, the only way we return to some normalcy is by trusting our neighbors, peers, coworkers and friends to align their risk tolerance and behaviors with ours.
So, what's your risk tolerance?
---
Graphic credit: