I am going back to school, and it's just starting to feel like real life. Within the past couple of weeks I was accepted into the MBA program at the Tuck School of Business at Dartmouth and the MPH (Masters of Public Health) program at The Dartmouth Institute For Health Policy and Clinical Practice. As the August start date inches closer, I suspect I will be on what amounts to the wildest emotional rollercoaster ride of my life.
https://www.instagram.com/p/BvmeXOQHhMC/
My desire to pursue a graduate education is multifaceted, deeply personal and something I have wanted to do for a long time.
I made the decision to begin the application process in the beginning of September after conversations with some friends, my parents and especially Darcy. Darcy, who has a masters degree herself, has long been encouraging me to take a big risk, follow my dreams and do something new with my life. Well… I can't imagine a bigger risk than moving to the middle of nowhere in a place that feels like a perpetual winter wonderland.
As I quickly approach 30 (yikes!), I told myself I would only allow a brief three-month period to apply, and then subsequently succeed or fail – in the business school world, this was all happening during the "round 2" period. Darcy and I spent two or three weeks researching and comparing a number of schools with an emphasis on non-profit and health care programs, student lifestyles, alumni networks, locations, nearby cystic fibrosis centers, and tuition and associated costs. It was then when we discovered that if there was ever a graduate business program for someone with cystic fibrosis to attend, Tuck was it. But more on that later…
This grand plan of mine was either going to work out or it wouldn't in a matter of a handful of weeks. After all, my high school hockey season was about to begin, and I owed it to my players to give them my complete and undivided attention. So, this past fall I quietly studied for the GRE (which really sucked by the way) on long cross country work trips, Saturday and Sunday mornings and most nights after work. In fact, it all happened so quickly that I didn't even apply for GRE academic accommodations (I can look back on it and laugh because the score I selected ended up coming from a test day when I had a horrible cold). I wrote essays, sought recommendations, recovered transcripts, and meticulously entered professional experience into different applications (I couldn't justify applying to just one school).
And then Lea died. Losing her was like losing part of myself. It was the first time I lost a dear friend to the very same illness I battle with every single day. It was dark, it was cold and it was scary. In the days immediately following her death, I spent most of the time reflecting on our friendship and watching old Breathe In recordings. It was then when tore up my admissions essays and I rewrote them about her.
I can't say I recommend writing a very personal admissions essay about someone else, but that's what I did! Maybe I'll share it one day, but for now those thoughts will remain between the admissions committee and me.
Looking back, applying to graduate school was one the most spontaneous decisions I have ever made, and it was largely due to the remarkable upswing in my health over the last year. I am the kind of person who is rarely satisfied, especially since I was denied the opportunity to pursue a law degree following my years at Boston College. Back then I was on the precipice of end-stage illness, which led me to feel like my life was seemingly falling apart around me. Battling back to a point where I can make this lifestyle change has nearly monopolized the last six years. It hasn't been fun and it hasn't been easy, but suddenly it feels worth it. To that end, I certainly wasn't able to do it alone. My mom has played such a big role in my life over the past few years that I'll never forget seeing her cry tears of joy when I told her I was accepted into one of the top 15 MBA programs in the world.
Tuck (really, Dartmouth as a whole) was my top choice for a few reasons. Most notably, Dartmouth is home to the Cystic Fibrosis Patient Registry, the Dartmouth Cystic Fibrosis Research Cluster, Dartmouth-Hitchcock Medical Center, and the Tuck School of Business Center for Health Care.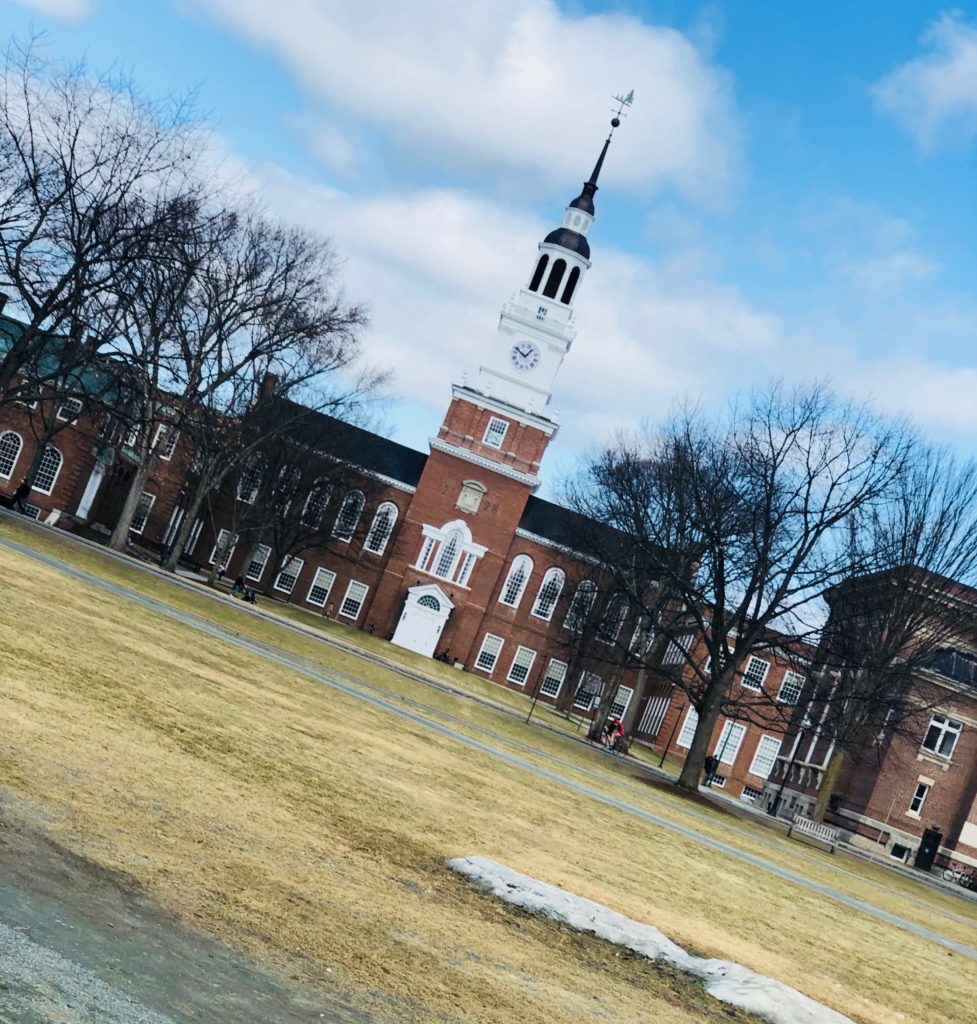 Who knew a single place in the middle of the woods had such strong ties to our very illness? I didn't before this past fall!
Ironically, I've actually been critical of the Cystic Fibrosis Patient Registry in the past, so I am excited to put myself right in the middle of it. I have been saying for a long time that the very thing we are missing at the center of cystic fibrosis progress is adult patient involvement, leadership and expertise. I am hoping this is my chance to walk the way I've been talking.
Not to mention, Tuck student culture revolves around ice hockey…
At the end of the day, health care is a business. It is a service that you and I subscribe to, and I look forward to learning the ins and outs of the industry from the faculty and my peers at Tuck, Dartmouth and the Dartmouth Institute. Overall, I need to learn how to operationalize patient experience in a way that can promote patient inclusion at every level of health care. I have a voice in the middle of all of this, but I want everyone else to have one, too, if they so choose. I want patients to be in leadership positions across health care industry, in the government and at the top of advocacy groups. I also want folks to be armed with the proper advocacy skills to demand the care, resources and treatment we need and deserve.
All of this, everything I've said so far, has felt like a blur, but then when I stepped on campus this past weekend for Admitted Students Weekend, it all started to feel very real.
So, as I prepare to take my next giant step in life, I find myself looking back over the last few years, while also beaming with hope about the future. I am sad to leave my hockey coaching career behind me, I remember how difficult my undergrad years were on my health, and I think about my friends and family I'll be leaving in New York. It's going to be hard, but I wouldn't have it any other way.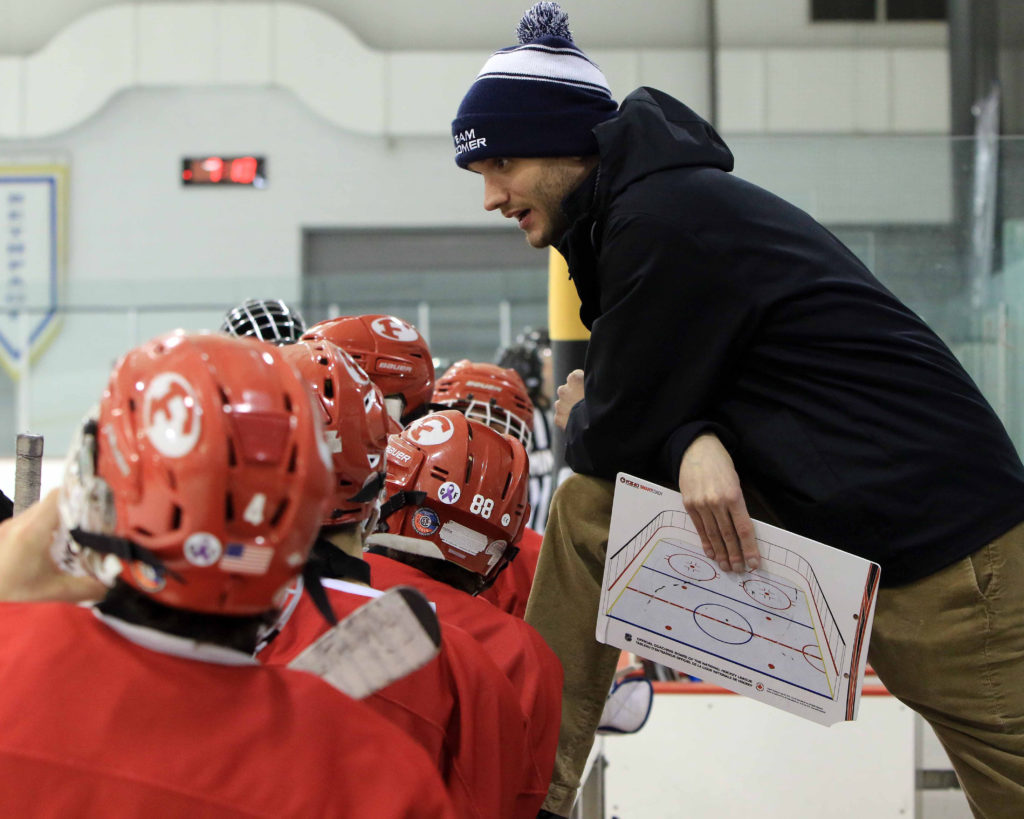 I see this as a challenge that I am thrilled to accept. Above all else, I cherish this once in a lifetime opportunity, I am grateful the admissions committee is giving me this chance, and I look forward to exponentially expanding my professional potential and network of friendships.
Those are the reasons I'll be spending the next few years of my life in Hanover, New Hampshire, and I couldn't be anymore excited!