I received a bunch of awesome responses to my Vitamix BLOG, with most asking about what I actually put into the Vitamix.
So, I'd like to share a few recipes with everyone.
Now remember, I am a cystic fibrosis patient with a feeding tube, so here are some notes about my diet:
I must give myself as much fat as I can… I also like to go heavy on protein.
Taste is not something I concern myself with thanks to the feeding tube.
I'm much bigger than the typical person with CF (6'3), so I try to get about 5000 calories in a single day, that may be a little crazy for some people.
This took a lot of trial and error to nail down, especially with my enzyme dosing, so this won't be a walk in the park to master right away.
My units of measurement are going to be both standard and metric (communist), the measuring cup that I have has both. Some things work better with ounces, others in mL. I'm not a mathematician, so I will not be converting everything to a consistent unit.
My mom is a magician in the kitchen, so a lot of the credit goes to her.
These are ONLY shakes that I do with my feeding tube to supplement my normal diet. Typically I eat a lot of red meat and potatoes and veggies, along with pizza. I love pizza.
Morning Smoothie:
Base

16 Oz. organic coconut water
8 Oz. organic watermelon water
8 Oz. organic apple cider vinegar & honey
16 Oz. Power Protein Greens Smoothie

2 scoops Tera's Organic Grass Fed Whey Protein
2 scoops Perfect Food Alkalizer & Detoxifier (Raw organic green super food)
2 scoops BeetLite
2 shots Belly Probiotic Juice Plus
1 bottle (2 Oz.) Red Ace Organic Beets & Tumeric Supplement
3 full drops Mullein Garlic
3 full drops Milk Thistle Seed
1000 mg L-Glutamine powder
1000 mg Reservatrol (2 caps)
4 Tbsp. Organic Extra Virgin Olive Oil
1 Avocado
1 cup organic blueberries
So here's the deal with this. This definitely requires a pretty large blender. If you have something more personal sized, you can adapt and overcome. You seem to be pretty smart so use, you know math, proportions – stuff like that. The base is a lot of the volume. Obviously I don't do this all in one sitting; I make it to last for two or three days. I end up going for 800-900 mL at one time and it comes out to about 900 calories. There is no way in hell that it tastes any good, so I bolus feed it through my feeding tube. I'm not sure I know a quick fix to improve the taste, but I will say this… I have had plenty of friends give it a try and they all survived. Since I wake up full from my overnight feed, I basically replace breakfast with this smoothie. My mom and I tweak this shake just about every month. Most recently we replaced coconut oil with olive oil. It's nearly impossible to get coconut oil to emulsify and through a feeding tube. We're three years into this project, so it's a work in progress. A LOT of trial and error as gone into this one, but this is what works for me. All of the items on the list here are available at a Whole Foods or Trader Joes… one of those kinds of places. Oh and BTW I only call it a smoothie because it has a purple color to it.
Afternoon Protein Shake:
Isopure Mass – 3 or 4 scoops depending on level of activity
2 cups of whole milk
2-3 oz. of coconut water
BLEND VERY WELL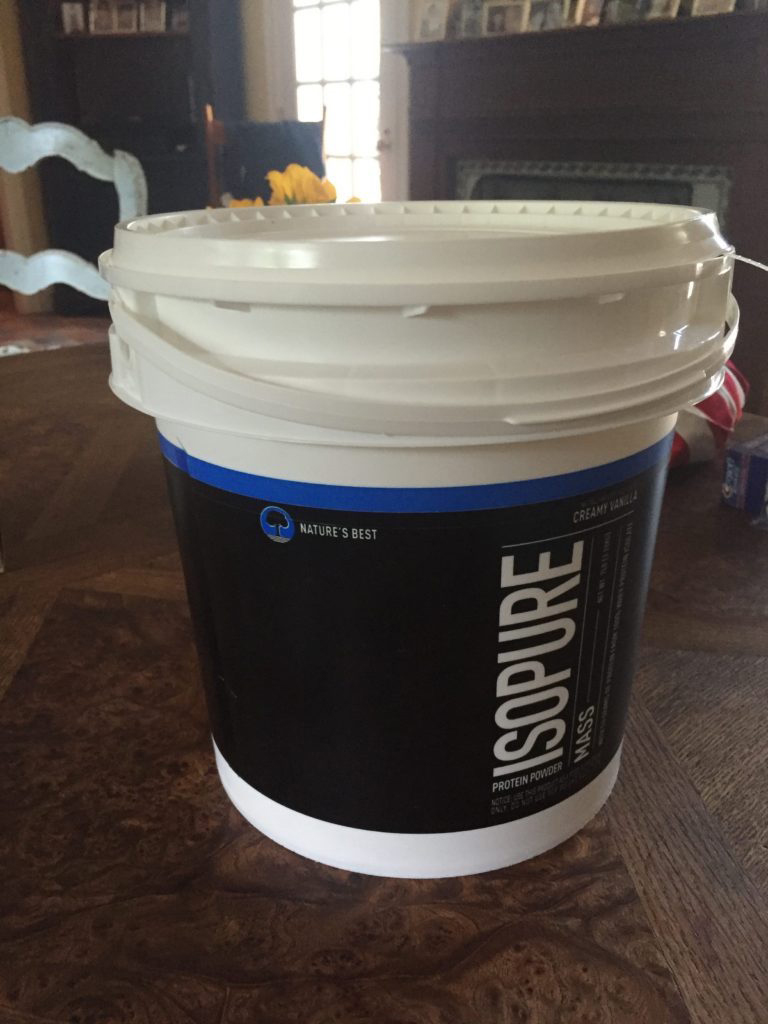 I've experimented with several different protein powders over the years. They all taste like shit and most of them clump up after they go through a blender. Isopure Mass doesn't clump, so it's an easy bolus feed for me. You can find it HERE. If you aren't lucky enough to have a feeding tube, you can cut the shake with regular water instead of coconut water… that might help in the taste department. When all is said and done, it ends up being about 1 liter worth of liquid. The two things I love most about Isopure Mass is that it doesn't feel dense in my stomach and that it's "clean" with very little added sugar and preservatives. A lot of protein powders that I have used in the past are super heavy and feel terrible hours after ingestion. I've used this for about two months now and I love it! The recipe on the container calls for six scoops of protein, which is ridiculous and an attempt for the company to screw you. There's no way anybody (with or without CF) can absorb all of that whey protein isolate. Three or four scoops are more than enough and you won't fly through a container. It rounds out to almost 900 calories (depending on the number of scoops of protein). A little work on Google will lead you to more affordable prices than the company website offers.
Overnight Feed:
3 containers of Liquid Hope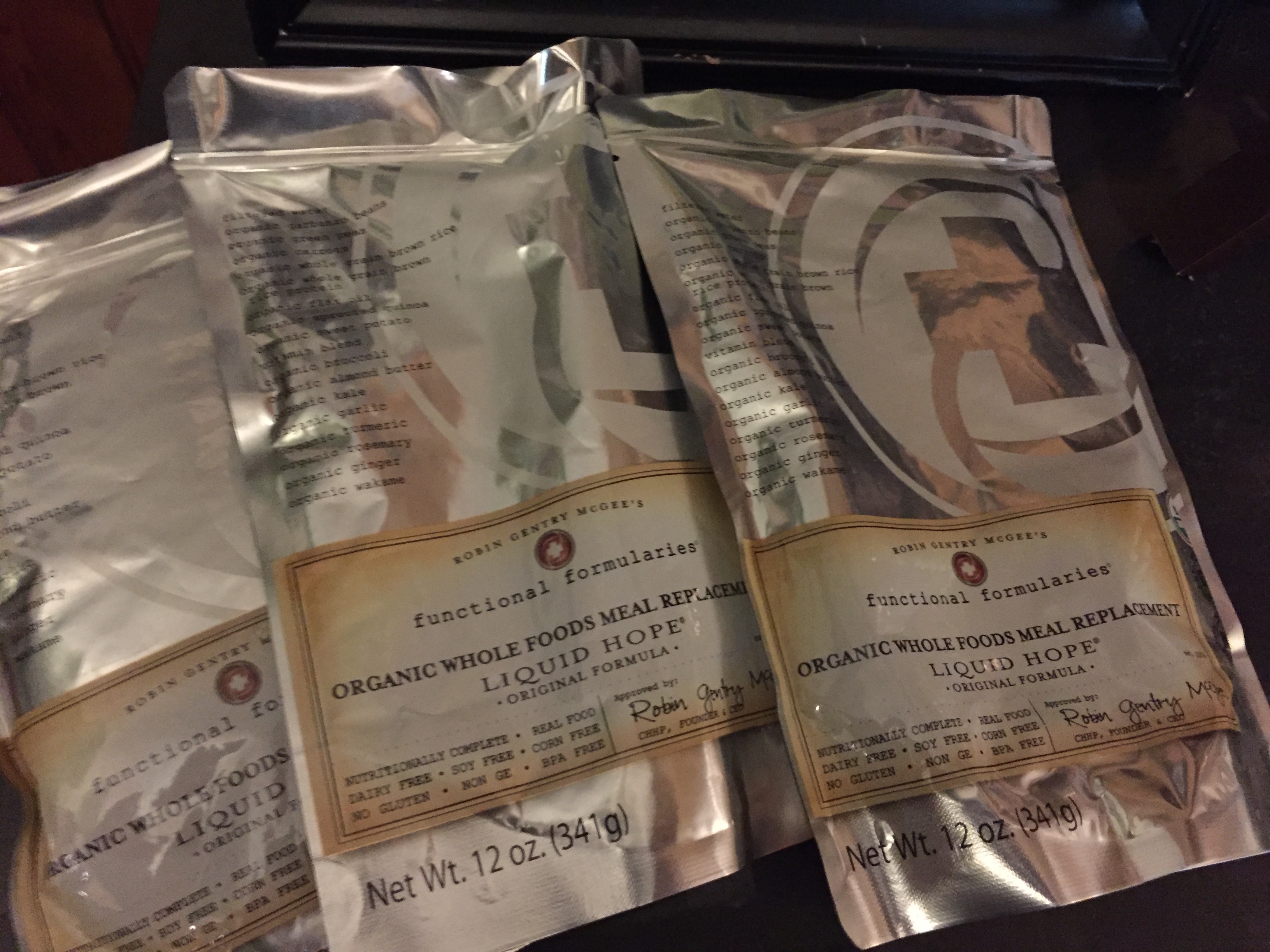 For the first five years with my feeding tube I used Nutren 2.0 overnight. I can't say enough good things about it. I credit it with giving me a much-needed jump in my weight. For a few different reasons I needed to find an alternative for my overnight feed. Liquid Hope is a relatively new product. It is an organic vegan formula with no added sugar – you can find it HERE. The three containers round out to about 950 mL and about 1300 calories in total. Compared to the 2000 calories I was getting overnight with the Nutren 2.0, I am taking in significantly less, but I find that it truly works. I'm taking in considerably less sugar and the ingredients in Liquid Hope act as a natural anti-inflammatory, so it's hard to pass up. My only complaint is that the formula is a little more difficult to get through the pump compared to the Nutren, so what I do to fight that is fill my sink with 2-3 inches of warm water and let the sealed Liquid Hope bags soak in it for 45 seconds or so to thin out the formula. That seems to work for me, but try it at your own risk.
So there you have it! I obviously use my feeding tube like a second mouth, and as the saying goes, if you don't use it you lose it.
Let me know if you have any success with any of my little recipes. I'd also love to know what you use at home! Use the comment box at the bottom of the page or send me an email at GunnarsBlog@Esiason.org!