Where are my feeding tube people at?!
I was recently introduced to the Bolee bFed feeding tube system from U Deliver Medical, and this thing is pretty cool. This is changing the way I 'm doing bolus feeds, and YOU need to jump on board.
If you're an experienced tubie like myself, then you know that Bolus feeding is a lot more difficult than it needs to be.
What is the one thing that makes it annoying, you ask? The syringe.
The feeding tube syringes are stupidly small. They generally run in the neighborhood of 60mL, which often leads to a mess or a bolus feed that takes way longer than it should. Bigger syringes are much more difficult to come by.
I live for bolus feeds. If you've followed my blog for a number of years, then you know I'm all about the homemade smoothies and shakes via a quick bolus feeds. Up to this point, I've pretty much just dealt with the size constraints.
Just a reminder, the bolus feed is what we, tubies, do when we want to utilize our g-tubes without a pump or IV pole… as it stands right now, we just push formula through our tubes with the stupid syringe.
Here's a picture of me doing a bolus feed with a syrgine.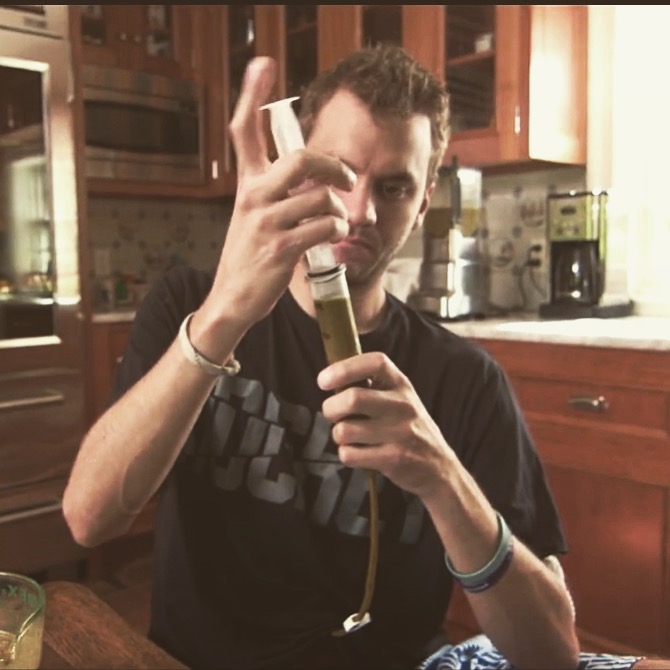 The Bolee pretty much eliminates the hassle. I like to say it looks like a mini IV bag. It fills with formula, water or a smoothie and then the user just squeezes it to get it flowing. The best part is that it holds significantly more formula than a single syringe. It is a reusable 375mL bag.
375mL is a pretty decent size when it comes to bolus tube feeding. Maybe a little smaller than I'd like for it to be, but it's a big step in the right direction, and certainly a lot easier to use than having to reload syringe after syringe.
Ultimately I think this thing is pretty cool, and I'm happy to see that medical device/nutrition companies are jumping on the whole food bandwagon. People with g-tubes want to be able to eat/drink just like everyone else, and this is one of the first products that I've seen that actually helps tubies use their own homemade forumlas.
Here are my final pros/cons
Pros:
Decent size container – much bigger than syringes
Reusable
Super easy to clean
Expedites bolus tube feeds
Largely eliminates the risk of spill/mess
User friendly
Cons:
Thick formula/smoothies will render the product nearly useless
The container is a little small for someone of my size and calorie goal (granted I'm a "big" tubie) – I'd like to see something in the neighborhood of 500mL
In my opinion the pros significantly outweigh the cons. I love Bolus feeds – as the recovery room nurse told me when I had my g-tube placed, "think of your feeding tube as if it's like another mouth…. You're going to love it!"
Talk to your clinic's nutritionist about the Bolee bFed feeding tube system.
Head over to www.udelivermedical.com to learn more.
---
Cystic Fibrosis March Madness Bracket voting returns tomorrow!
Cover photo courtesy U Deliver Medical