Book reviews aren't something that I do quite often on here unless I find a something worth discussing.
My girlfriend brought the graphic novel Ghosts by Raina Telgemeier to my attention a couple weeks ago. Ghosts is a children's book centered around a young girl whose younger sister is living with cystic fibrosis.
Generally I do not like when pop culture attempts to shine a light on CF. I've seen far too many failures from Red Band Society to Gray's Anatomy. I find that the illness is often misrepresented or given an unfair look, to the point where the story is either unwatchable or unreadable.
Ghosts, however, succeeds where most others fail. The story is really about much more than CF, though most of the technical details surrounding CF are spot on. It's about a young girl named Cat learning to cope with her sister Maya's illness, and the things Maya can teach to the rest of the family just by simply living. The story is told through the lens of the family moving to a new town on the "coast" to benefit Maya's health.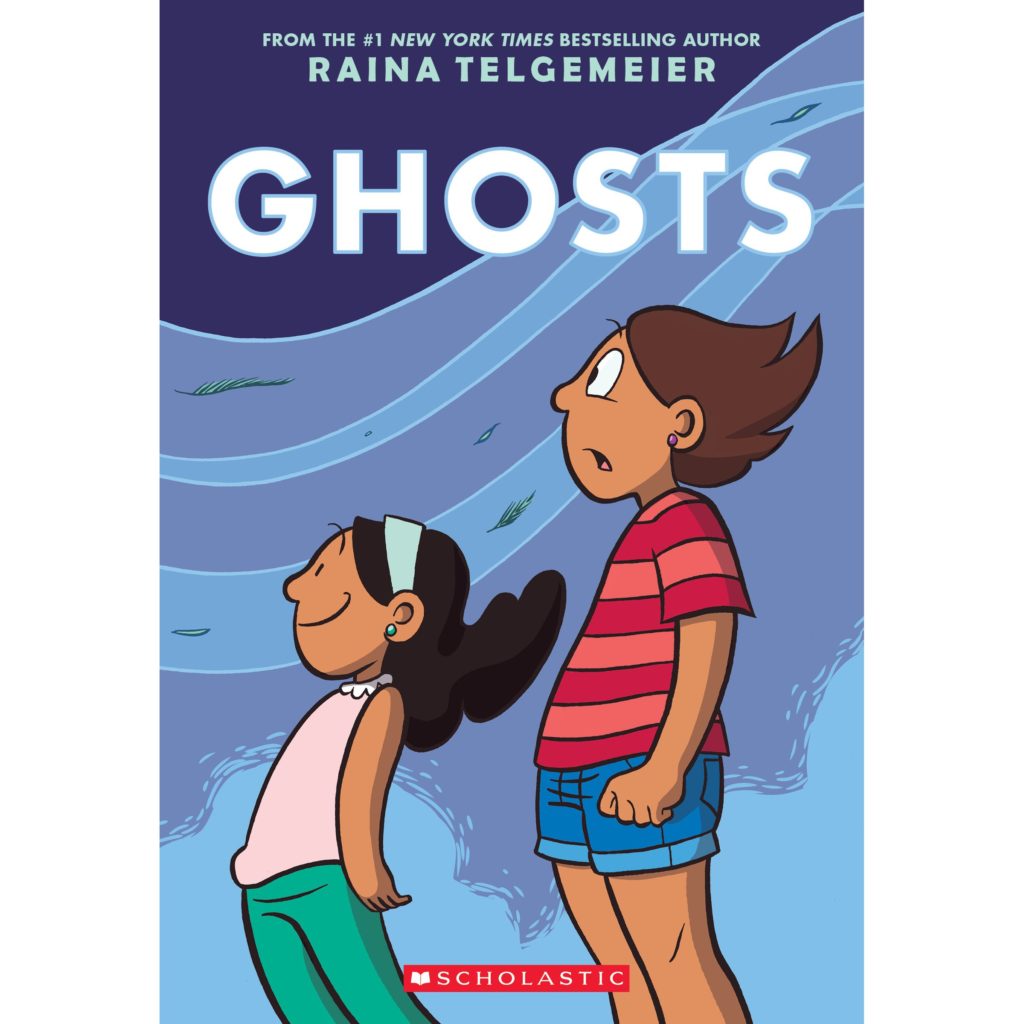 One of my big takeaways was how Cat and the rest of the family were enormously protective of Maya. I was able to relate that to my own life in more ways than one, but mostly the anxiety that plagues my support system. I've seen the look on my mom, sister, dad, friends or girlfriend's face enough times to know that anxiety is something that consumes the people around me.
You can kind of see that look on the cover above.
My own personal wellbeing is of the utmost importance to people in my life. I'm not sure I've been able to totally understand that feeling, since I'm the one of the receiving end of this crazy emotion. That's not to say that I'm not protective of other people, but the unconditional love that extends towards me is something I think that many people living with chronic illness feel, yet can't totally understand.
Maya certainly feels that emotion and handles it the way many of us do once we pass the fear stage during an issue – Relax I'll be fine…. Just breathe.
To that point "breathing" is a strong undertone of the story, and another part of the story that I really loved. It is portrayed in boht a positive and negative way, which I think is really important. Too often do we see stories that over extend themselves in the search of being inspiring, yet they fail to truly show why they are supposed to be inspiring in the first place. Breathing is a challenge for Maya, yet the entire book revolves around her success and failures with such a simple bodily function.
Despite Maya being the one who constantly struggles to breathe (and at one point having her breath stolen from her), and for a time also dependent on oxygen for a period of time, she is the one telling the characters around her to "breathe."
"Breathe it in. Now let it out," she says.
In reality, her sister Cat is the one who has to learn to accept Maya's oxygen dependency.
Regardless of Maya's complete innocence, she's the one who is actively teaching her older sister, and mom and dad, for the matter, throughout the entire book. Her state of being, liveliness and carefree attitude are infectious. When her parents and sister often intervene to prevent her from doing something out of fear for her health, Maya steps in and tells, or sings to, the characters, "let it out!" It really represents how mature Maya is for her age, but also shows how she deals with the frustrations of her illness.
Ultimately she, like the rest of us, lives with CF and the responsibilities that come along with it.
My favorite part of the book was when Maya snaps at her parents because they attempt to coddle her.
Ultimately I do think this is a fantastic children's book, one that is suited for anyone living with CF and their siblings, friends or significant others.
That being said, the book does fall short when it comes to the parents. I realize the it's a kids-centric book, but I think the writer does leave out an incredibly important piece of a CF story – how parents are the ones who are there to EMPOWER and motivate their CF kids to live free and full lives. In the story the parents seem a little aloof. They're always kind of in the background just going through the motions of active care. I would have liked to seen a small moment of empowerment.
Yet, Ghosts is the still one of the most accurate portrayals of CF that I have ever seen in a fictional setting. I applaud Raina Telgemeier for doing such a fantastic job of researching cystic fibrosis.
For that reason, Ghosts gets a 4 out of 5 on my scale.