I got my second Moderna vaccine dose over the weekend, and finally after a long year I am breathing a sigh of relief. If my experience this past weekend is representative of the nation at large, the demand for vaccines is still quite high. The clinic was packed wall to wall with vaccine recipients and the sight of it was simply awesome.
I have been talking with a handful of my CF friends, who have also completed their vaccinations, about risk adjustment moving forward, second dose experiences and resumption of "normal CF care," so I wanted to share my thoughts here as well.
Yes, there were some side effects with the second shot. They were pretty much in line with the events Moderna filed with the FDA, so I didn't feel like there were any surprises. The side effects went away as quickly as they came on similar to the arm soreness and fatigue I experienced with the first one.
My shot was scheduled for 10:30am on Saturday, and by 8:30pm I had the earliest signs of a fever, some aches, and an uncomfortable case of the chills. On top of it all, I had some soreness near where I got my injection. The soreness was probably the "worst" part if that tells you anything at all.
I took some Tylenol but had an uncomfortable night's sleep. At peak, my fever came close to touching 101 degrees before breaking while I slept.
Sunday morning, I woke up in a puddle of sweat feeling like I had a sophomore year of college type hangover, which you can see with my WHOOP data.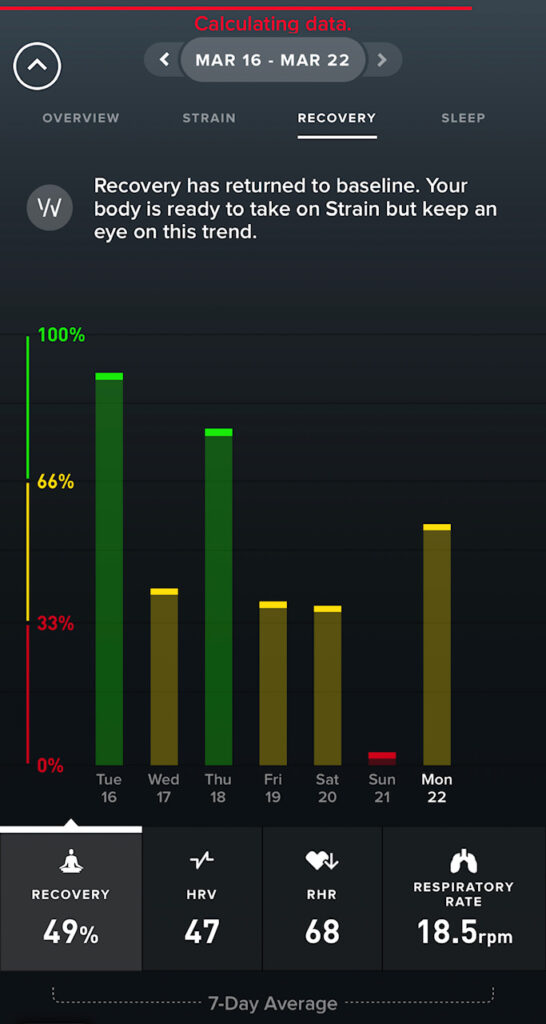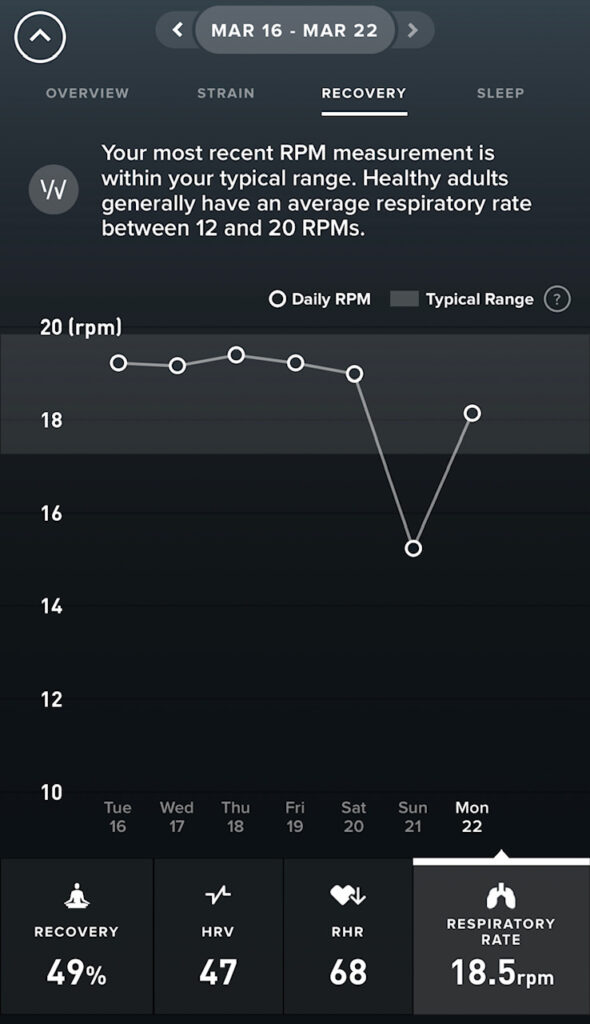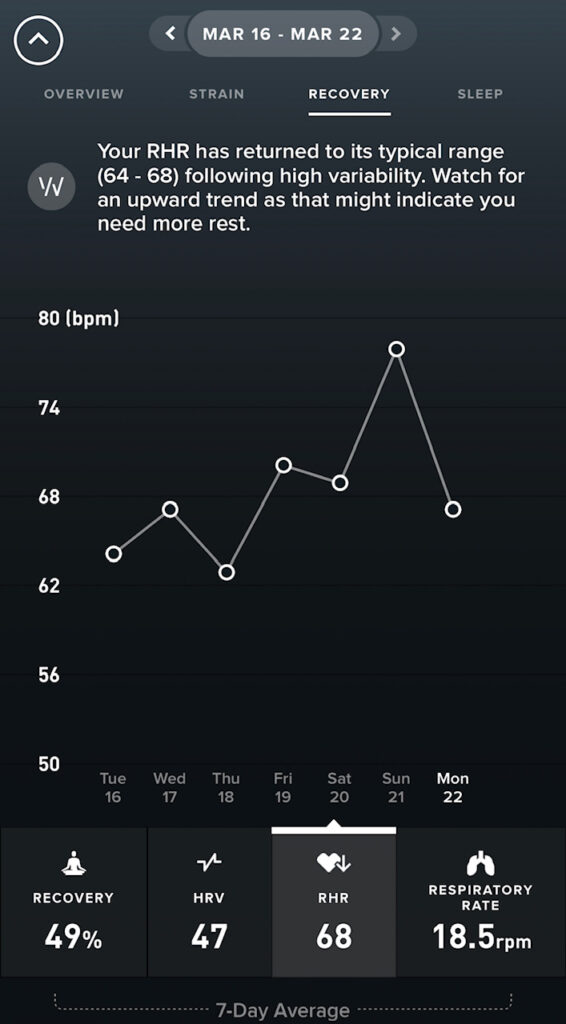 By 10:30am on Sunday (24 hours post), I was just exhausted from my restless night in bed, but was able to knock out some schoolwork, watch March Madness, and play Call of Duty. It was what I would consider to be a pretty typical Sunday. The only lingering effect was the injection site soreness, which is still kind of with me, but to a much lesser extent. It is not unlike the dead arm I used to get from my youth lacrosse days. The fever hasn't shown itself since Sunday morning, and even then it was a low grade fever near 99.8.
I cannot say the side effects were the worst I have ever felt from a medication over my 30-year career having taken all sorts of prescription drugs. They did not even come close to how terrible I felt after a week on IV polymyxin-B (talk about a shitty drug to be on).
In talking with a bunch of CF friends who have also completed their vaccinations, but have otherwise been healthy since Trikfata hit the market, it's almost like this was our first collective "illness" in a long, long time. It was certainly a weird sensation.
I did not increase my treatments beyond adding a Tylenol dose on every 6 hours, which quickly knocked down my fever.
As far as risk is concerned moving forward, I will definitely take on some more. It'll be nice to help Darcy with many of the publicly facing tasks that she has assumed for the past year. Once I'm two weeks post dose I'll finally be able to opt-in to the hybrid learning model at school, and once my family is vaccinated back home (hopefully soon!), I want to zip down to New York to see my niece after a long, long year. I'm definitely looking forward to getting out of the quarantine requirements. Thank you, CDC!
Beyond that, I'm not in any rush to turn into a Spring Breaker or take on the bar scene (though I do turn 30 in a couple weeks and can't rule out a beer or two at Murphy's even if I have to sit there by myself).
I definitely want to wait for more immunity in the population before I consider going back to "normal" especially with the ongoing race between the variants and the vaccines.
Yes, you'll still see me wearing a mask if I am out and about.
I am also excited to get back into the CF clinic for a real check-up. Yes, telehealth has been nice, but that's really all it is, a nice complement to in person care. My hope is that a portion of the required quarterly visits will be replaced by telehealth check-in's, but at the end of the day there is something reassuring about having a stethoscope laying on my chest. Is it essential to get inside the clinic every three months especially if maintaining baseline health is feasible for some? Maybe.
An update on the advocacy front: we are excited that most, but not all states are vaccinating people with CF, and we're even more excited that the New York Times included cystic fibrosis as a headline condition in a recent article. We (and the CF Foundation) have not stopped working on that end. I'll be happy when its an issue that is finally behind us all, but we aren't there quite yet! The variation between the CF registry and the European CF Society's outcome data sets that we cited in our USA Today editorial show how behavior (even when it's good) can influence numbers that policymakers use to set policy. Setting allocation frameworks is not a job that I ever want to have (I do have a great deal of empathy for the people doing it), nor is it something that I hope becomes normal in our lives, but it's important to be loud about the issue, so we will continue to be.
While this isn't quite the end (after all… this is a global health crisis), it certainly feels like we are starting to turn the page to a new chapter of the pandemic. I'll be the first to admit that I have been suffering through some pandemic fatigue for the last few months, which has been brought on a range of emotions from frustration to disappointment, some relief and, at times, worry. The lifestyle from this past year is not one that I hope to have to repeat any time soon.
I think at different points throughout the past year a lot of us (me included) fell into the well it can't get any worse trap. Watching one major metropolitan area across the globe crumble after the next in the face of extraordinary levels of disease should have been enough of a wake up call, but it wasn't for a lot of people. It really calls to question about the ways our society needs to think about investing in prevention instead of reactionary healthcare.