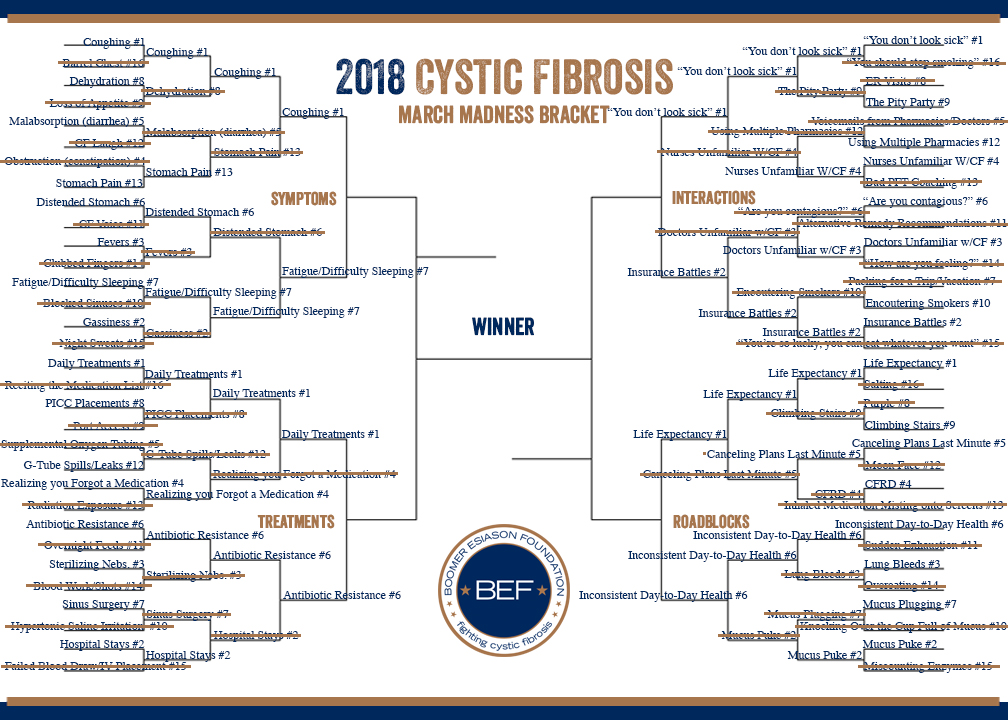 Alright! Here are the results from the Salty Sixteen:
SYMPTOMS REGION
#1 Coughing 75.9% – #12 Stomach Pain 24.1%
#6 Distended Stomach 37.6% – #7 Fatigue/Difficulty Sleeping 62.4%
TREATMENTS REGION
#1 Daily Treatments 70.9% – #4 Realizing You Forgot a Medication 29.1%
#6 Antibiotic Resistance 52.3% – #2 Hospital Stays 47.7% (14 vote spread)
INTERACTIONS REGION
#1 "You Don't Look Sick" 62.5% – #4 Nurses Unfamiliar with CF 37.5%
#3 Doctors Unfamiliar with CF 41.4% – #2 Insurance Battles 58.6%
ROADBLOCKS REGION
#1 Life Expectancy 64.8% – #5 Canceling Plans Last Minute 35.2%
#6 Inconsistent Day-to-Day Health 63.1% – #2 Mucus Puke 36.9%
---
It looks like all #1 seeds are going to the championship rounds for their respective regions. Personally I think "You Don't Look Sick" is the weakest one… it really bother me too much when people say that. If I had to choose another one that I think is going to go down in the next round it would be Daily Treatments. Antibiotic Resistance seems to be a big dog in the voting, though it did struggle a bit in the Salty Sixteen.
We lost two more #2 seeds. Mucus Puke was one of my Final Four picks… I'm pretty shocked to see that one lose.
Coughing, as far as the betting line goes, is still the odds on favorite to win this whole thing. It's showing that it really is the TRUE NUMBER ONE SEED.
Here we go, only eight teams left…. ELECTROLYTE EIGHT voting is below and over on the @SaltyCysters Instagram story as always.