About, Public Speaking, Press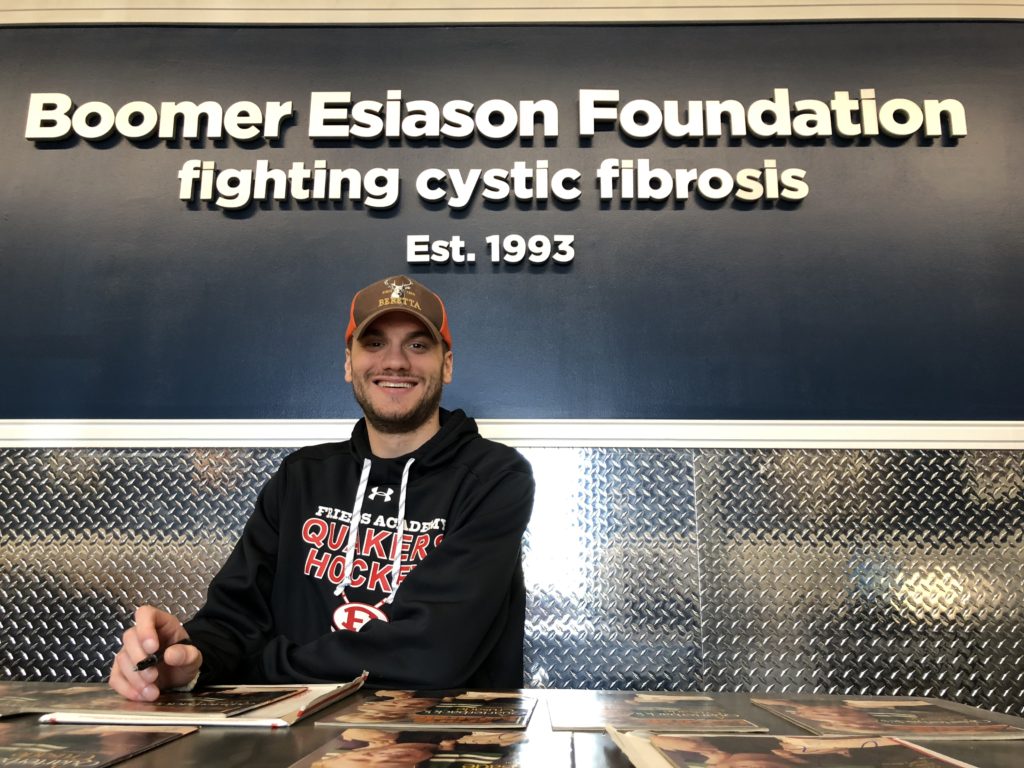 Welcome to Gunnar Esiason dot com. Take a look around. Throw me a like on Facebook, follow me on Twitter – do whatever your heart desires.
I am 28 years old living with cystic fibrosis. I graduated from Boston College in 2013 and now work as a director of patient outreach and board member at the Boomer Esiason Foundation, the non-profit organization my parents founded upon learning of my cystic fibrosis diagnosis. Our organization has successfully supported drug development, various cystic fibrosis clinics and patients via financial aid programs. I am the co-host of Breathe In: A Cystic Fibrosis Podcast, a writer and was formerly the head coach of my high school alma mater's varsity ice hockey team. Beginning Fall 2019, I will be pursuing a Master of Business Administration at the Tuck School of Business at Dartmouth and a Master of Public Health at The Dartmouth Institute for Health Policy and Clinical Practice. Above all else, I believe it's important for people living with chronic illness to feel empowered to advocate for themselves, work with their care providers and contribute as equals within the healthcare structure. Originally, I decided to create this blog to use some of my experiences as an educational platform for people with cystic fibrosis, or their families, looking for some sort of guidance. To my surprise, this blog has taken on a life of it's own and has sort of grown beyond my control. So with that, whatever my blog may seem like today, it could be something totally different tomorrow, next week, next month or next year. If you know someone (with or without CF) struggling with life, who may need help or just wants a good laugh; make sure you give a referral. I take requests too. Send me an email ([email protected]) if you want to see me write about something specific, or click on the Ask Gunnar tab. I hope you enjoy – and don't worry, I take criticism well.
I am available for select speaking engagements, lectures, motivational talks, and Cystic Fibrosis Family Education Days. Past locations include:
St. Louis University School of Medicine, Pre-Commencement Address 2019
Cincinnati Children's Hospital
Dartmouth-Hitchcock Medical Center
Boston Children's Hospital
Texas Children's Hospital
ProMedica Toledo Hospital
Yale-New Haven Medicine
Johns Hopkins Medicine
Children's Hospital of Wisconsin
Maine Medical
East Tennessee Children's Hospital
University of Vermont Medical Center
University of California San Francisco Benihoff Children's Hospital
University of Wisconsin Health
University of Virginia Health System
Stony Brook University Hospital
Colorado Children's Hospital
TuckTalks, Dartmouth College
Oley Foundation (feeding tube-specific) Annual Conference 2015
Annual Cystic Fibrosis Nutrition and Social Work Consortium (2016)
Cystic Fibrosis Foundation, Real Life with CF Series (2018)
Global Genes 2018 RARE Patient Advocacy Summit
New Jersey Society for Respiratory Care Annual Shore Meeting (2018)
Various healthcare industry sales meetings, conferences
All business inquires: [email protected]
---
PRESS